Is your home or business at risk from termites?
Book with the Newcastle Termite Inspections Professionals Expert Termite Control if you:
Suspect you might have a termite problem in your home or business?
Want to prevent a termite infestation before it starts?
Call the Termite Inspections & Control Specialists
We make the entire Newcastle Termite Inspections process as effortless as we can for you. Your home or business represents a large investment. Once termites invade a building, they can cause expensive damage that threatens the integrity of the building. By the time you see evidence of termites, the damage they cause is probably extensive. Most of the destruction they cause is hidden. Prevention and early detection are paramount. Here is what to expect from a Newcastle Kill A Pest termite inspection:
Termite Inspection Report in accordance with AS 3660.2-200
Visual inspection of both interior and exterior, for any activity of wood-destroying insects
We will be inspecting evidence of the presence of termites including damage to wood
Identification of areas inside and outside the structure that could attract termite infestations, such as standing water, moisture around the foundations, wood mulch close to structures, tree branches overhanging structures, and any wood features of the structure that are touching or buried in the soil
Inspection of soil around foundations and structures, especially by common entry points
Landscaping Timbers & Timber Retaining Walls
Gardens & Trees
Fences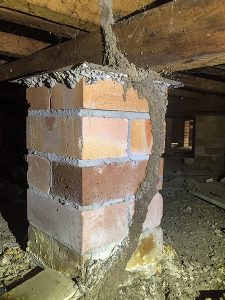 Termite Workings in a Subfloor
IN NEED OF TERMITE CONTROL? NEWCASTLE KILL A PEST CAN HELP
Termite infestations can be expensive and destructive. Get peace of mind with regular Termite Inspections and if you do have a termite problem, call us to knock them out and keep them out. We have extensive experience with Exterra and can put your termites down for the count.
We provide Termite Control to Newcastle, Maitland, Cessnock, Singleton, Lake Macquarie and Port Stephens.