TRITHOR Termite Barrier – Better Termite Security
TRITHOR TERMITE BARRIER IS AUSTRALIA'S NUMBER ONE termite security system that is easy to install and work with.
Flexible and slender to suit all modern scenarios, yet tough and rugged so it will not tear like some other products.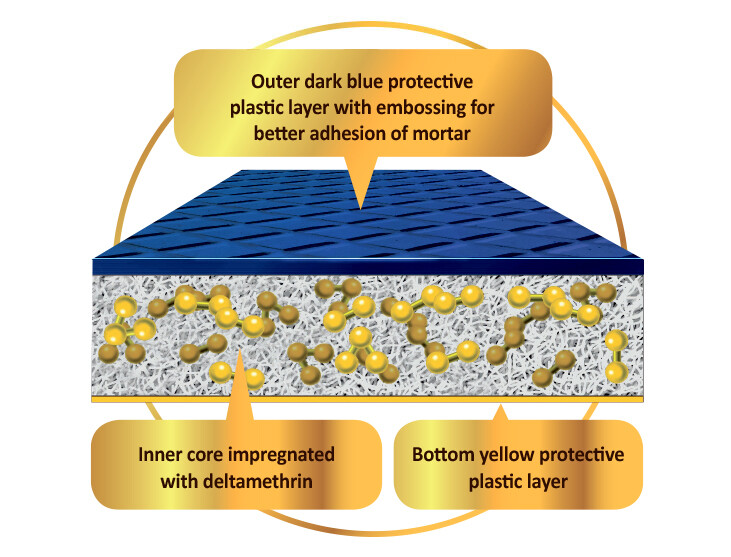 TRITHOR is a flexible termite management system that may be installed in many difficult and complicated situations including multiple penetrations and step downs. TRITHOR is quickly installed and is completely concealed from view.
TRITHOR is a flexible termite management system that may be installed in many difficult and complicated situations including multiple penetrations, step downs, etc.
TRITHOR can even be moulded around unusual building designs and is easily cut and joined ensuring you total protection at all times. TRITHOR is quickly installed and has no sharp edges to affect other tradespeople.
TRITHOR is exceptionally tough. A very sharp cutting blade is required to cut TRITHOR. Blunt objects, workmen's boots, etc. have no chance of penetrating TRITHOR. In the unlikely event that a hole is accidentally produced, it is easily repaired.
TRITHOR was designed and tested for the toughest conditions and has been tested in tropical conditions in Australia and SE Asia to ensure protection against our voracious termites.
TRITHOR is so effective in securing properties against termites, it is protecting more than 100 000 homes and buildings in Australia, SE Asia, the Middle East and Europe, with numbers growing daily.
CodeMark is a new building product certification scheme administered by the Australian Building Codes Board. Third-party CodeMark certification bodies evaluate and certify products to ensure they meet specified requirements of the Building Code.
TRITHOR Termite Barrier holds a CodeMark Certificate of Conformity, CM40255, confirming compliance with the Building Code of Australia Volume One and Volume Two including Queensland and Northern Territory variations, as a termite protection system to deter concealed subterranean termite entry into buildings.
Independent trials, conducted in accordance with the requirements of AS 3660 Termite management Part 3 Assessment criteria for termite management systems and other tests show that TRITHOR will remain as an effective termite protection system in excess of 50 years, even in tropical situations.
We are so confident in TRITHOR, we offer a comprehensive termite damage warranty to ensure you have peace of mind in the unlikely event that TRITHOR fails to provide adequate protection.
How it Works
Our unique Thermo-compression Technology™ locks the deltamethrin into the inner core before it is laminated top and bottom with a rugged plastic membrane. This means it is non-hazardous to anyone handling the product or who comes into contact with it.
Low in toxicity to warm-blooded animals, though deadly to termites and other insects. Better yet, deltamethrin both kills and strongly deters termites.
The inner core forming the core of TRITHOR adds to the durability and effectiveness of TRITHOR Termite Barrier.
Structured to prevent termites from penetrating past or through the product.
The upper blue plastic layer is thicker and provides an additional benefit by serving as a moisture vapour barrier or damp-proof course.
The bottom yellow plastic layer prevents the deltamethrin from leaching into the environment, thereby ensuring that it remains locked safely away from any soil organisms and soil moisture.