Pre Purchase Pest Inspections in Newcastle
Newcastle Kill A Pest offers Pest Inspections and Reports in the Newcastle, Lake Macquarie & Maitland areas. All our Pest Inspectors have local knowledge and extensive experience. For this reason, we are help you with your Newcastle Pest Inspection and the detection of Termites or Timber Pests.
Most noteworthy all of our Pest Inspectors are fully insured. This allows you to make your next purchase with complete confidence.
Newcastle Kill A Pest can often provide same day Pest Inspection services. As a result we provide reports via email within 24 hours of the inspection being carried out.
PEST INSPECTION CHECKLIST
Our comprehensive reports consist of the following information:
Overview on the presence and/or workings of termites or timber pests
Review of any present conditions that may attract a termite or timber pest infestation
Information on the work that may be required to rectify conducive conditions or issues
Recommendations of required trades to perform necessary work
All of our reports come with detailed photos describing defects, conducive conditions and other potential issues.
HOW QUICKLY CAN I GET A REPORT?
In most situations same day Newcastle Pest Inspections can be offered Newcastle Kill A Pest. As a result reports are provided via email within 24 hours of the inspection being completed.
BENEFITS OF A NEWCASTLE PEST INSPECTIONS REPORT
Unlike a basic termite inspection. Newcastle Pest Inspections identify the presence of termites, Borers, Fungal Decay and timber pests, as well as highlighting conducive conditions to future activity. Due to the devastating damage termites can cause, these reports are considered vital in most parts of Australia.
If major defects or termite activity is found, our reports provide the knowledge you need. This allows you to avoid purchasing the affected property, saving you from stress and financial loss. Furthermore it may assist in negotiating an appropriate price that factors in corrective action that may need to be taken.
When obtaining a Newcastle Pest Inspection report our clients are also able to plan ahead. This allows you to factor in any additional costs such as maintenance, repairs and future renovations.
To arrange a quote or a Pest Inspection for a property in Newcastle, Lake Macquarie or Maitland areas call Newcastle Kill A Pest on 0400425889.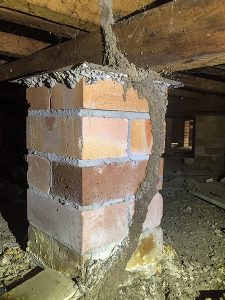 Termite Workings in a Subfloor